Spircocerca is a dangerous worm that is potentially infecting dogs all over JHB. Read the attached article for more info about this nasty parasite & how to prevent it.

A fat animal is an unhealthy animal!
Being overweight predisposes your pet to (amongst others)  joint pain, diabetes, pancreatitis, raised blood pressure, increased anaesthetic risk, heart failure and respiratory complications. Feeding the right food at the right quantity, with the correct level of exercise is vital to your pets continued health. Feel free to ask us for advice about your pets weight.
Don't forget to check your pets teeth!
Bad breath is usually as a result of poor oral health. If your pets teeth are not sparkling white or if the gums are red (not pink) or bleed easily, then dental attention is probably required. We have a top-class dental set-up to help restore your pets' mouth back to optimal health (and pleasant smelling!!) Click HERE for a great article about your pets oral health.

Don't ignore a limp!
If your pet limps for more than 3 days, he/she needs to be seen.  Leaving a problem for longer can result in rapid progression of joint disease (arthritis).  Our modern X-ray facilities can aid in the diagnosis of many joint and bone related problems.
How often should I deworm my pet?
We recommend deworming dogs and cats every 3-4 months. The dewormers (which are available from our receptionists) are effective against all the major worm groups. This is especially important where young children are present, as potentially serious medical complications can arise from pet worm infestations in humans.
PS - it is also a good idea to deworm all the humans periodically as well!
Why is vaccination important?
Vaccination protects our pets against several potentially serious and even fatal diseases. In earlier years, these diseases caused great devastation and suffering, but are now largely preventable through vaccination. We can advise you on the correct vaccination schedule for your pets.
Does my pet need tick and flea control?
Ticks and fleas, besides causing pain and irritation can also transmit diseases. They are not always easily seen and can become a major problem in the household very quickly! Prevention is so much easier than cure. We have a range of very effective, easy to use products that will keep your pet free from these nasty parasites. Although less prevalent in winter, they are present all year round, so your pets should continue to receive treatment throughout the year. We do not recommend powders or shampoos as a form of prophylaxis as these do not provide any residual activity, and are not particularly effective.
GREAT NEW ARTICLE:

If you are looking for a great guide on how to brush your pets teeth, click on the link below. We keep a great range of toothbrushes, toothpaste and other dental treats for your pets optimal dental health.

Vet Articles
Coughing
My pet seems to have a persistent cough. What caused it and what can I do about it?
Coughing is one of the most common syndromes veterinarians all around the world encounter during consultations. Coughing in itself is not a disease, but a symptom of something else in your pet. The onset, type of cough, duration and production will help the vet to get to the bottom of what's going on inside your pet.
What is coughing?
Coughing is an audible, forceful expelling of air from the lungs usually in an attempt to clear the airways. Forceful expulsion of air should follow forceful inhalation for the whole action to qualify as a cough. A cough is actually a protective reflex of the body, which signals the presence of an underlying condition. Coughing is generally classified into two main categories namely a wet/productive cough or a dry/non-productive cough. A wet cough is one in which there is an accompanying fluid or mucous discharge seen with each episode; while a dry cough has no discharge or fluid.




PERIANAL FISTULA
My dog has sores around his anus, which he is constantly licking. He also gets aggressive if I touch his tail and he seems uncomfortable and is just not himself. What's wrong?
Perianal fistulas are an extremely painful medical condition of the anal region of dogs. As the name describes, this condition involves infection in the skin and surrounding tissue of the anus. 'Peri' means around, the anus, while a fistula is a tunnel in the skin that connects an area of infection to the skin or glands. This condition is characterised by very smelly draining sinus tracts in the skin around the anus and sometimes the deeper structures beneath the skin up to the rectum.




Corneal Ulceration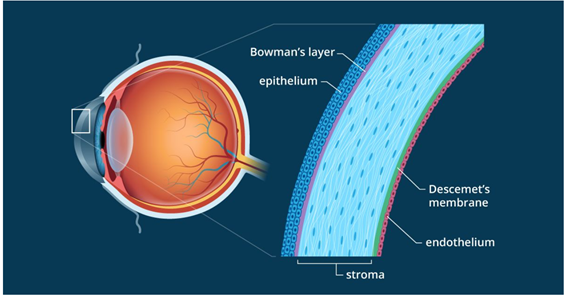 My pet's eye is half closed and there seems to be something in their eye
My pet's eye is half-closed and there seems to be something in their eye

What is a corneal ulcer?




Chronic diarrhoea in dogs and cats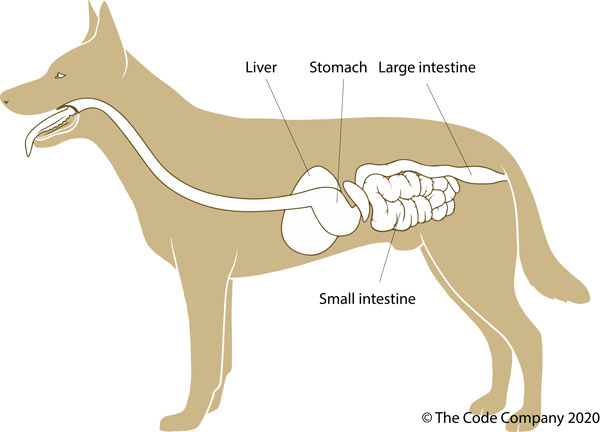 My pet has recurring episodes of loose stools
What is chronic diarrhoea?
Chronic refers to a disease that has been ongoing, either persistently or intermittently for three weeks or more. Whereas diarrhoea, as many of us can relate, is the passing of soft or loose stool. This stool is usually soft enough that it needs to be scraped up rather than picked up. It can range from the consistency of thick porridge to watery like soup.




Acute Abdomen
My pet won't eat, has a distended belly, is retching, and appears restless and in pain. She seemed fine yesterday, what could be the cause?
Now and again pet owners are faced with emergency situations when their pets are suddenly in severe belly pain. Unexpectedly, both the owner and the pet are in a moment of anxiety and distress. So what could possibly be going on? This sudden severe belly pain is what veterinarians call an acute abdomen.
What is acute abdomen?
Acute means to happen suddenly, while the abdomen is the lower part of the trunk of the body, often referred to as the belly. The term acute abdomen refers to sudden pain in the belly. This sudden, severe pain in an animal's belly should be treated as an emergency and requires immediate evaluation and response by the vet.




My pet has put on weight and is acting slow and lazy. His hair is falling out and he has recurring skin infections. He also seems cold all the time. What's going on?!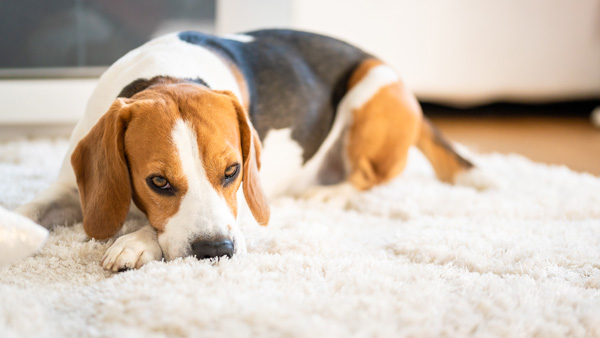 Hypothyroidism
What is hypothyroidism?
As with humans, hypothyroidism is caused by low levels of thyroid hormone being produced by the thyroid gland, which is located on either side of the throat. Since the thyroid gland is part of the endocrine system, any decrease in thyroid hormone secretion has an effect on multiple systems in the body that rely on hormones to function properly – like the metabolism.




My pet lost a patch of fur and developed a massive sore overnight. It looks like a burn wound.
Hotspots (Acute moist dermatitis or moist eczema)
Acute moist dermatitis is a skin ailment in pets that's caused by a trigger like an itch or pain, and exacerbated by the pet's scratching and licking until it becomes a large bare patch of painful skin lesion. Since the lesion is an open painful wound, it's referred to more commonly as a hotspot.




Acral lick granuloma
My pet does not stop licking his leg and has a huge sore where he licks
When a pet owner brings their animal in to the vet with a firm, raised, angry red bump on the pet's leg or ankle, complaining that the animal (a dog more often than a cat) won't stop licking at it, the vet knows that there is a potentially long road of diagnosis and treatment ahead. The symptoms and behaviour described here are common in what's called acral lick granuloma.




Telemedicine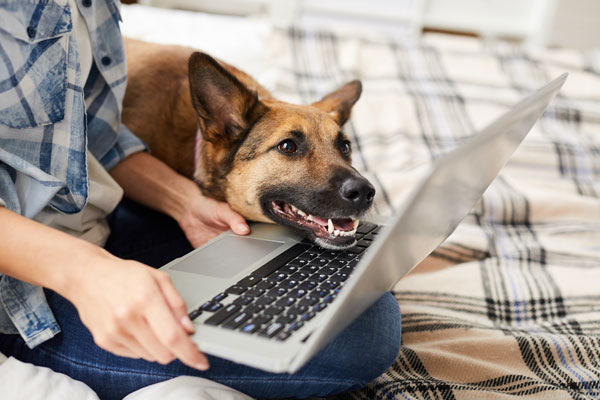 Zoom vs the zoomies: Should pet owners expect their vets to rely on telemedicine during and post-Covid-19?
The Covid-19 pandemic has swept the world into unchartered waters. As humans and as veterinarians, we are trying to adapt to the 'new abnormal', which requires navigating between providing the best care to our animal patients and ensuring the safety of their humans – you – and our staff. One of the solutions available to vets, which has quickly gained traction in the human healthcare sphere, is telemedicine: providing healthcare via the internet.




My dog is tilting his head to the side, and seems to be off balance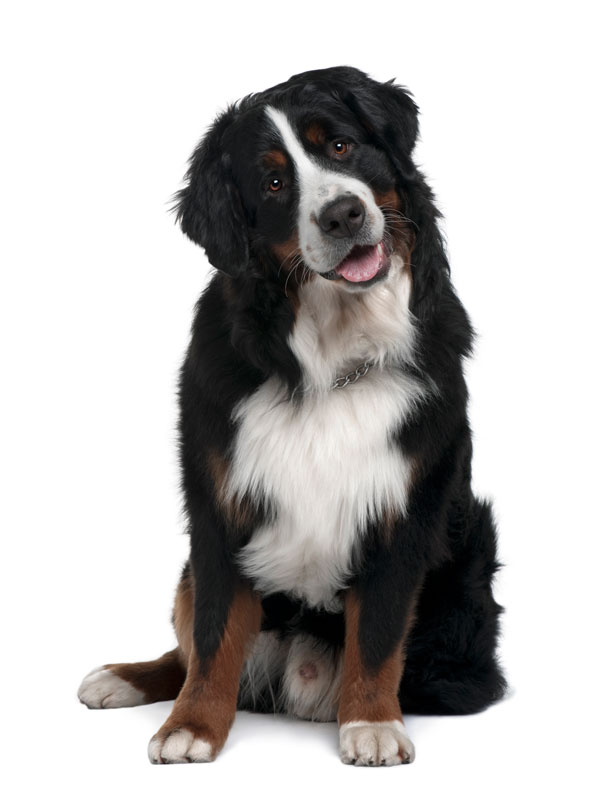 Head tilt - Vestibular disease
The vestibular system
The vestibular system is the body's 'balance messenger' – giving mammals (including humans and pets) key sensory information that allows us to stay upright and properly orientated in the world. The vestibular system is made up of two main components: the inner ear and the brain.